Blog
Men's perfume, an item that adds charm to attract girls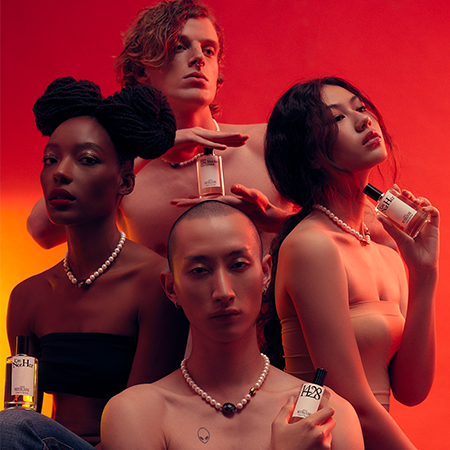 Men's perfume, an item that adds charm add charm to attract girls
It really cannot be denied that nowadays, young people are more interested in taking care of themselves. It can be said that taking care of yourself is as good as girls, and it seems that the main item that can indicate the identity of young men the most is " men's perfume " because when stepping out of the house Perfume is considered a good helper to boost your confidence. because apart from the appearance dressing style Perfume can help make your personality look better. Therefore, if you want to look elegant and dignified, you must choose the right perfume for yourself. and select the scent that attracts the most
Men's fragrances help to enhance the look to look expensive, luxury style.
The smell of men's perfume is another charm that is most intriguing. Believe that most women must like men who already spray perfume. because it shows taking good care of yourself Men who wear perfume will win over women more. Wearing perfume doesn't just make you look attractive to the opposite sex. But it also shows elegance, style, shows credibility, easily noticed by executives at the CEO level or large lines of work that have to meet a lot of people. We always smell fragrances that represent the personality of the user.
Men's perfume, a substance that represents feelings. with many benefits that you should know
" Perfume " is a substance that can be used instead of many feelings. The smell of perfume affects the mood. It reflects our identity very well. We can use different fragrances each day. to convey emotions And our feelings at that time Perfume has many benefits. Both help you feel relaxed. Help create a different mood each day. In addition, each fragrance can help adjust your mood according to the scent of the fragrance.
Techniques for choosing men's fragrances to suit your lifestyle
Perfume is important to make an impression on you as well as men . If you want to impress the onlookers from the first time Let you choose the right fragrance for different occasions. Scientific studies have proven that different fragrances can make you more attractive. Because body odor can indicate who you are as well. The scent of perfume can be chosen to match your daily lifestyle. But how to choose to impress those around you? The technique that we will introduce you today will definitely help you.
· Men's perfume for those who like to hang out .
For men who are party people who like to socialize a lot You have to experience the smell of sweat, alcohol or even the smell of cigarettes. Therefore, choosing a perfume must choose a scent that is very long-lasting. Choose a perfume that gives you a naughty, attractive scent. Guarantee that you can attract the attention of girls for sure.
· Men's perfume for street type, fragrant, cool, stylish
If you are a street guy active all the time We recommend that you choose a scent that gives freshness. and sporty at the same time Spray and feel fresh. animated Most importantly, the sporty scent is very suitable for our home climate. Therefore, it is considered another fragrance for men that you should have in your closet.
· Perfume for men that look neat and dignified.
If you are a man with a discreet, deep, inviting personality, the right perfume for you should be a strong, sweet scent. mixed with softness, warmth, or may choose a scent that gives a clean feeling Like having just taken a shower, it can be said that it's the scent of perfume that men come clean wearing a cool suit, don't miss it.
For men who are interested in perfume Want to find affordable perfume, the same smell as the counter brand May be given to someone special on an important occasion. or choose to buy for daily use We recommend NEFERLONGE men's fragrances that stand out for their luxurious appearance. There are many scents and styles to choose from. We create the scent of perfume that is suitable for men directly, indicating the taste of the user as well. Importantly, it can be used in every occasion. suitable for teenagers until working age